MYOB Accounts Reports
In the previous articles, we have discussed about built-in reports in MYOB for Profit and Loss and Balance Sheet.  This article, however, discuss on the built-in Accounts Reports in MYOB.  To access this group of reports you also follow the same link like accessing the Profit and Loss and Balance Sheet reports by going to Reports window as per screenshot below: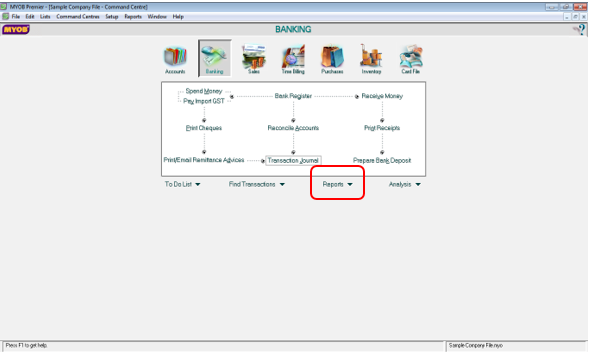 The group of Accounts Reports actually are the first group of reports you see when you click on this option as per screenshot below: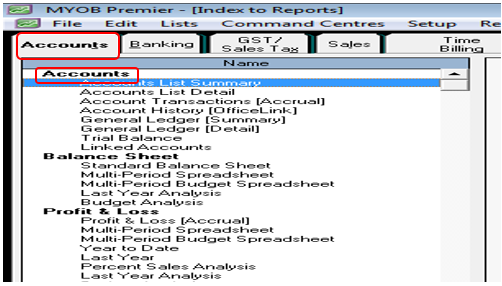 The Accounts reports in MYOB composed of the following:
Accounts List Summary
Accounts List Detail
Account Transactions (Accrual)
Account History (OfficeLink)
General Ledger (Summary)
General Ledger (Detail)
Trial Balance
Linked Accounts
Accounts List Summary
The Accounts List Summary shows all the accounts grouped into Assets, Liabilities, Equity, Cost of Sales, Income, Expenses, Other Income and Other Expenses including the amounts entered into MYOB.  Please do take note that the accounts depends on the Chart of Accounts you have setup during the company data file creation or those you have manually created.
Accounts List (Detail)
This report contains the account lists showing the accounts by Type, Debit or Credit, if it's a Header or Detail; Level, the amount Balance and the default Tax Code as per screenshot below:
Account Transactions (Accrual)
 This report shows the accounts summary in balance of Debit or Credit for the period and don't accounts transaction details.
Account History (Office link)
Shows all the accounts with its Opening Balance and the budgeted amounts per month as per the screenshot below: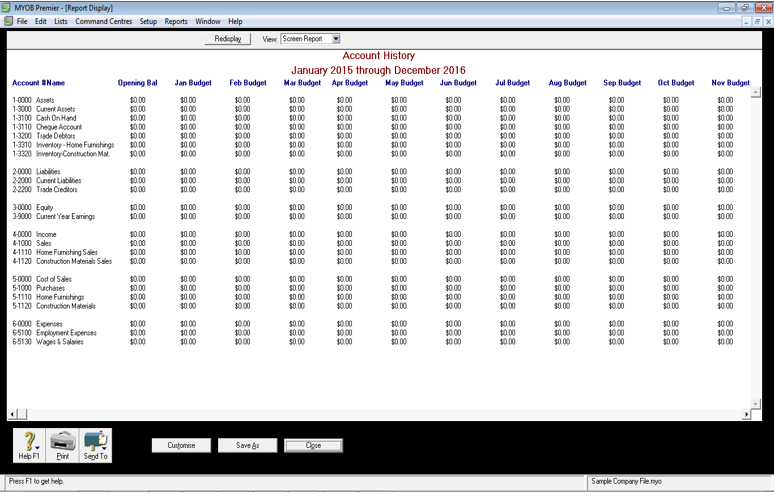 General Ledger Summary
The General Ledger Summary provides you the accounts and the accounts code, transactions Beginning Balance, Debit, Credit and Net activity and the accounts  Ending Balance.
 General Ledger Detail
This report is almost the same as the General Ledger Summary only that this is more detailed showing the Opening Balance, Debit and Credit, Date of accounts transactions Job Number, Net Activity and Ending Balance.
Trial Balance
This report of course include the Accounts and the total Debit, total Credit as well as the YTD Debit and YTD Credit.
Linked Accounts
The Linked Accounts report shows all the accounts that are linked to default accounts in MYOB.  These accounts include those you have created and linked as well as MYOB's default linked accounts as per screenshot below: