CREATING, CHANGING AND DELETING ACCOUNTS LIST IN MYOB PREMIER
CREATING, CHANGING AND DELETING ACCOUNTS IN MYOB PREMIER
TO CREATE A NEW ACCOUNT
1. Click on the Setup menu, then choose Easy Setup Assistant, then go to Accounts, then click New.
2. The Edit Accounts window will appear. In the Profile tab, you have to indicate whether the account is a header or a detail account.  Error in indicating the type of account would result to error and would result to improper mapping of account as well as the resulting reports. Select the account type from the Account Type list. For example you are going to edit a Liability Account for Credit Card
The Account Classification field changes according to the selection you made.
3. Now, you enter the number you have assign in the Account Number field. You can enter any four-digit number you like.  However, note that there should be a sequence of numbers in order for you to add accounts that should go first or next to the previously set up Detail Account.  Note that the prefix to the account number is determined by the account classification: 1 – for asset accounts, 2 – for liability accounts, 3 – for equity accounts and so on.
4. Press TAB and type name for the account.  After typing in the Account Name, press Enter, then OK.
5. Please take note that when creating or editing an account, you are not required to enter opening balances.  To do this would be so time consuming.  The best way to do this is to go to Setup, click on Balances, choose click Account Opening Balances.  This topic will be discussed in detail in the next part of the training.
EDITING MYOB ACCOUNTS
MYOB is designed in such a way to give flexibility to the user to edit or delete accounts but with built-in controls.  Using Setup, click Account Easy Setup Assistant, then go to Accounts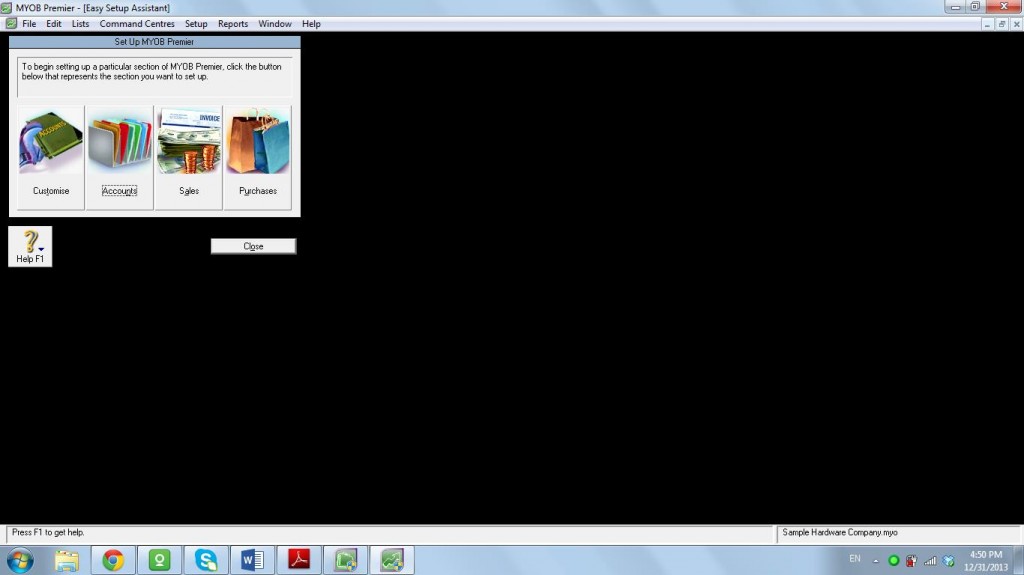 When clicking Accounts, the screen below appears: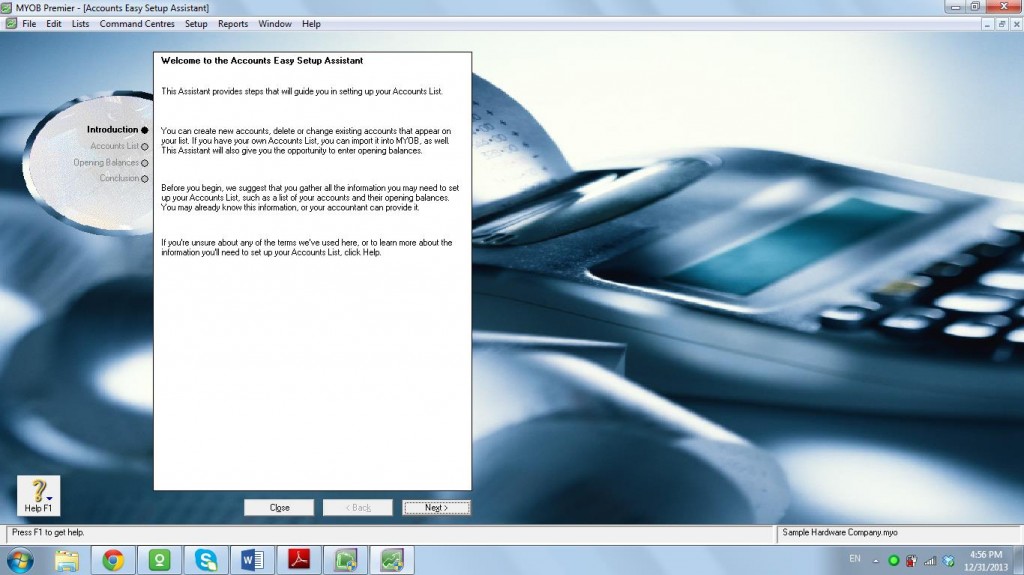 Click Next and the window below appears"
Choose Edit
A Detail Account can be edited as to the Account Name, Account Number and even Account Classification.  However, editing of accounts should be done only when needed.
DELETING MYOB ACCOUNTS
Deleting of accounts can be done in MYOB for certain types of accounts.  However, MYOB have built-in control measures to prevent deletion of Linked Accounts – like Cash in bank, Accounts Payable even without previous transaction entries in Banking, Accounts or General Journal Modules.   Deletion of accounts usually allowed on any unlinked accounts, like expense accounts provided there is no previous transaction posting to the account that is to be deleted which is another built-in internal control measure in MYOB.
Screenshot below show an attempt to delete Checking Account – a balance sheet account which is linked to customer receipts.  In this case, deleting cannot be done.
Screenshot below shows attempt to delete unlinked expense account – Dues & Subscription which could have been done in MYOB.  However, there is already a posting made to this account resulting in a debit entry.   Thus, deleting of this account cannot be made.
MYOB prompts warning on the status of deletion for 6-1400 Dues & Subscription Account: