Handling Customer Credit in MYOB Premier
Part 17 – Handling Customer Credit in MYOB Premier
MYOB Premier allows you to efficiently manage customer accounts and as a result, your accounts receivable.  To do this, it is designed to enable you to control Customer Credit by any of the following control features:
Put customer accounts on hold or using MYOB feature Credit Holds.
Enable you to control credit limit by setting credit line amount or Credit Limits
Inclusion of finance charges on customer statement of accounts
Putting Customer Accounts on Hold
            MYOB Premier enable you to put customer accounts on hold to prevent further sales transactions. This may apply to instances when customer have overdue accounts regardless of whether customer have reached its credit limit or not as an effective means of increasing accounts collection efficiency.  To put customer account on hold, do the following:
1. On the Cards List on the Card command centre.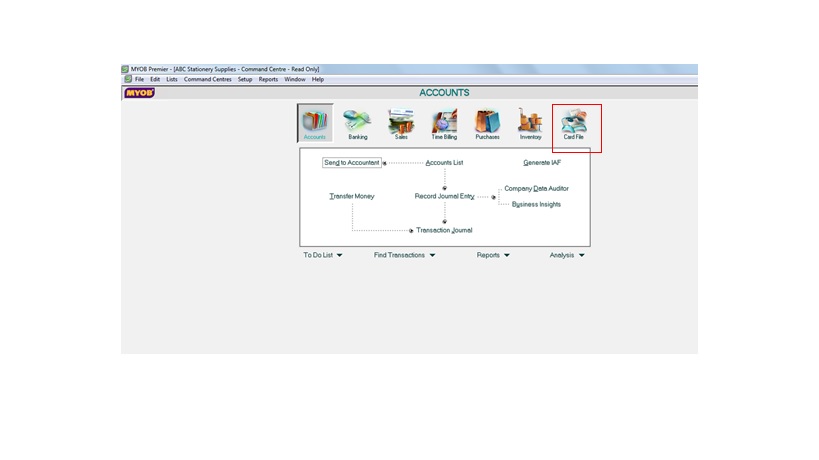 2.  On the Cards List window, click on the Customers tab, and select the customer you want to put the hold and click on Edit and select the Selling Details.  Choose Credit Limit and Hold and select Place This Customer on Credit Hold and click OK.  To remove customer from the credit hold, just deselect on uncheck the box on Place This Customer on Credit Hold.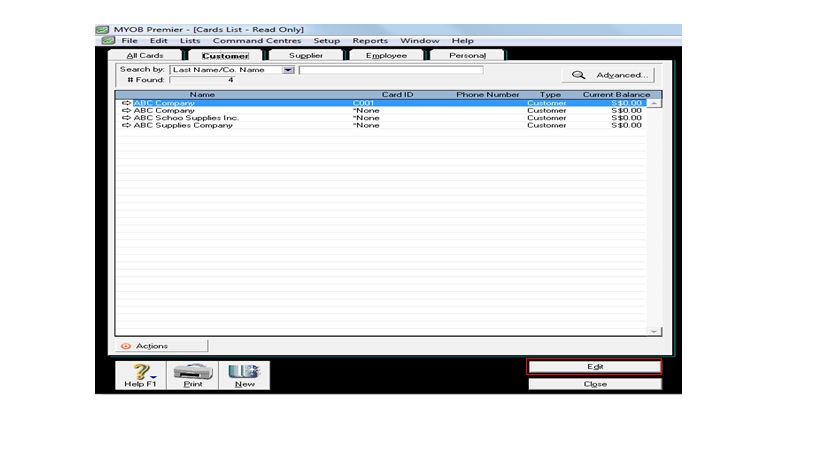 Setting Customer Credit Limit in MYOB Premier
In order for MYOB Premier to enforce credit limit, you should setup in Preferences, in the Setup feature.  Once you are in the Preferences feature, choose on the Sales tab and set the following:
Warn if Credit Limit exceed on sale
Require a password and credit limit override when a new sale is entered that would result to credit limit excess.
Please refer to the screenshot for the Setup – Preferences below: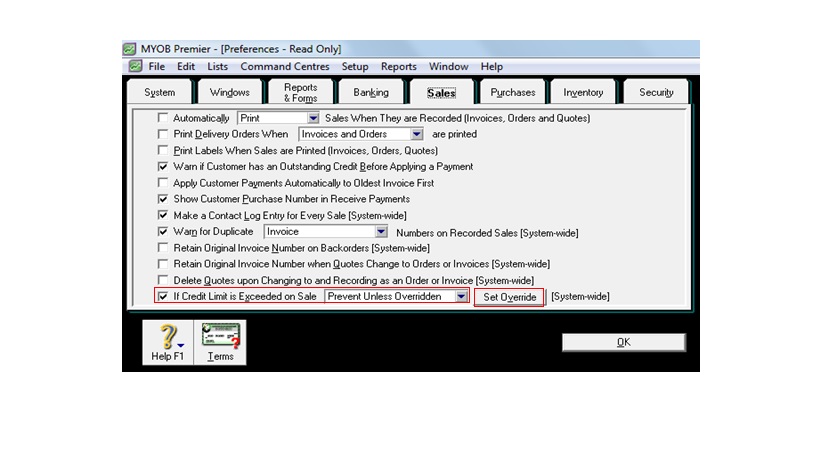 To set credit limit on the customer credit account, go to the Cards List of the Card command centre and click on Customers tab and select the customer you want to set up the credit limit.  Click on the Selling Details tab and indicate the amount of Credit Limit you want to set in the field.
If the customer have exceeded credit limit, upon management approval, you may lift or increase the credit limit set forth in the Credit Limit field.
To set up finance charges
In case you impose finance charges to customers with late payments, you have to setup tracking account for the finance charges.  To do this, go to the Setup feature and choose Linked Accounts and choose Sales Accounts and then select Assess Charges for Late Payment and select an income account for which to record the late payment charges which you need to setup before doing the linking of accounts.  Click OK to record the link setup.   If you have not created an income account to track the late payment charges, create another transaction window in MYOB so that you don't need to go out of the Setup – Linked Accounts screen.  Screenshot for the following as follows: