HOW TO CREATE ACCOUNTS LIST (CHART OF ACCOUNTS) IN MYOB PREMIER REVISED
HOW TO CREATE ACCOUNTS LIST (CHART OF ACCOUNTS) IN MYOB
Creating Accounts List or Chart of Accounts in MYOB have never been so quick and easy.  This part is intended for "New Company File" set up or first set up of company accounts.  To start using this, click on Setup, select Easy Setup Assistant as shown below:
There are three ways to set up Accounts List in the Easy Setup Assistant as follows:
1)     Start with Accounts List Provided by MYOB Premier; or
2)    Import a list of Accounts provided by Accountant after setting up the company file; or
3)    Build own Accounts List once company user have started using MYOB Premier
Now, we discuss the first way:
1.    START WITH ACCOUNTS LIST PROVIDED BY MYOB PREMIER
One of the best features about MYOB software is its built-in Accounts List with very wide range of industry classification and business type to choose from. So you don't have to hire a team of consultants to customise the company accounts or Chart of Accounts. Account Codes/Account Names varies in accordance to the business type you choose.  So be sure to indicate the most appropriate business type for which MYOB is to be used for the built-in Accounts List.  See, setting up Accounts in MYOB is just a click away.  If there are a few accounts not included in the MYOB built-in list, all you need to do is add the accounts later after the accounts are set up. Adding, deleting and editing of accounts will be tackled in a separate topic below.   All you have to do is to do the set up upon "Creating Company" and click on Start with Accounts List Provided by MYOB Premier.  After clicking on the first option per screenshot below:
Choose Next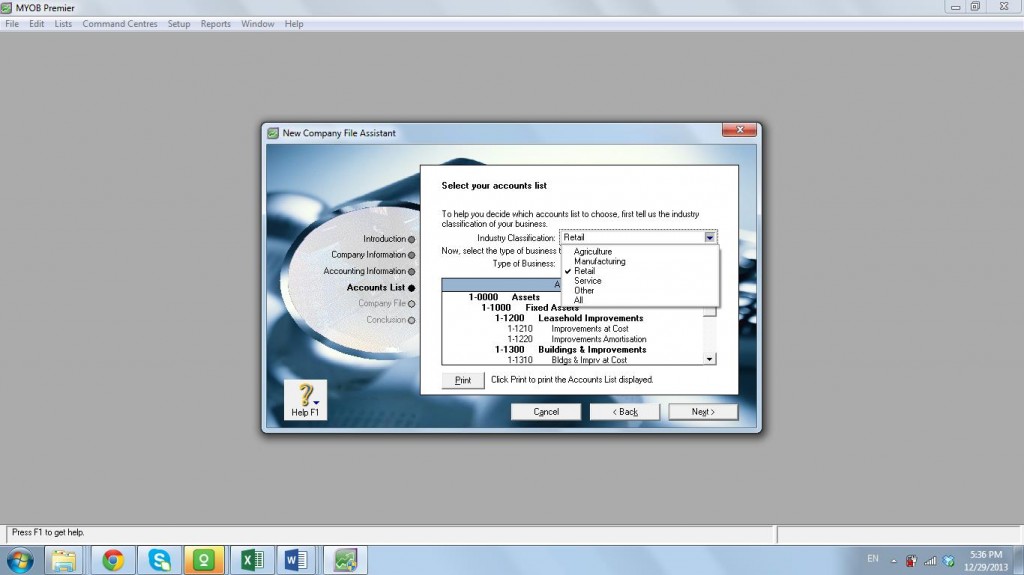 ACCOUNT CLASSIFICATIONS IN MYOB
Please take note that in MYOB, account classifications are designed to be that simple and easy and set up in the following order as follows:
Asset
Liability
Equity
Income
Cost of Sales
Expense
Other Income
Other Expense
The following Industry Classification in alphabetical order with corresponding type of business have its corresponding Accounts List or Chart of Accounts in MYOB:
Industry Classification

Type of Business

 Agriculture

Agricultural Business
Farm

Manufacturing
Retail

Audio-Visual Equipment Rental
Bakery
Bicycle Dealer
Boat Dealer
Bookstore
Bridal Shop
Cafe
Car Dealership
Clothing – Retail
Computer Dealer
Delicatessen
D. I. Y. Store
Exercise Equipment Dealer
Florist
Formal Wear Rental & Sales
Furniture Dealer
Garden Centre/Nursery
Gift Shop
Hardware Store
Health Food Store
Hobby Shop
Home Appliance Dealer
Home Product Sales
Jewellery Store
Liquor Store
Pet Shop
Pharmacy
Restaurant
Shoe Store
Sporting Goods Dealer
Video Store

Service

Accounting Firm
Advertising Agency
Advocate & Solicitor
Air Conditioning Contractor
Architect
Art Gallery
Associations & Clubs
Banquet Facility
Beauty Salon
Building Contractor
Catering Business
Cemetery
Chiropractor
Cleaning Service
Clinic
Computer consultant
Computer Service Bureau
Construction Company
Consulting Firm
Copy Centre
Craft Business
Dance Studio
Day Care Centre
Decorator
Dental Surgery
Designer
Developer
Distributor
Dry Cleaners
Educational Fund Tracking
Electrical Institution
Electrical Contractor
Entertainer
Financial Services
Fitness Centre
Food Service
Freelance Writer
Funeral Parlour
Graphic Artist
Gymnasium
Hairdresser
Health Club
Heating Contractor
Home Business
Instructional Lessons
Insurance Agency
IT Consultant
Landscaper
Legal Firm
Limousine Service
Mechanic
Medical Office
Motel/Hotel
Moving & Storage Company
Night Club
Non-profit organisation
Optician/Optometrist
Pest Control Service
Pet Grooming Service
Photographer
Printer
Property Management
Publishing Company
Real Estate Agency
Religious Organisation
Roofing Contractor
Travel Agency
Veterinarian
Web Designer

Other

Partnership, Other
Retail Business, Other
Service Business, Other
Sole Proprietorship
Wholesale Business
2.    IMPORT A LIST OF ACCOUNTS PROVIDED BY ACCOUNTANT AFTER SETTING UP THE COMPANY FILE
MYOB is capable of importing data which is another powerful time-saving and automation tool to include import of Accounts and add it to the current MYOB company file.  The accounts list data may come from other software programs or from another MYOB file.  The saved file containing the accounts list to be imported to the new MYOB company file should be from a tab-delimited or comma-separated values (CSV) file format.  Importing data is discussed in a separate topic – Export and Import Data in MYOB in the next training module.
3.    BUILD OWN ACCOUNTS LIST ONCE COMPANY USER HAVE STARTED USING MYOB PREMIER
This option is a good choice if the company is just new and have a minimal or few accounts to be used.  If you are creating your accounts list from scratch, it would be easier for you to enter all your Header accounts first before entering your detail accounts.  Just be sure you have the accounts listing properly reviewed and arranged in chronological order prior to doing this to avoid having to edit or delete created Header Accounts and Detail Accounts.  It is very important to distinguish Header Account group as compared to Detail Accounts, otherwise, this will result to erroneous and wrongly posted accounts that lead to misleading financial and other reports.
THE FOUR TABS IN MYOB ACCOUNTS SETUP
In using MYOB Accounts Easy Setup Assistant, there are four tabs for the account creation.
1. Profile Tab – This is where you are going to specify if the account created is a header account or detail account.  In case of detail account, account code number and account description is indicated.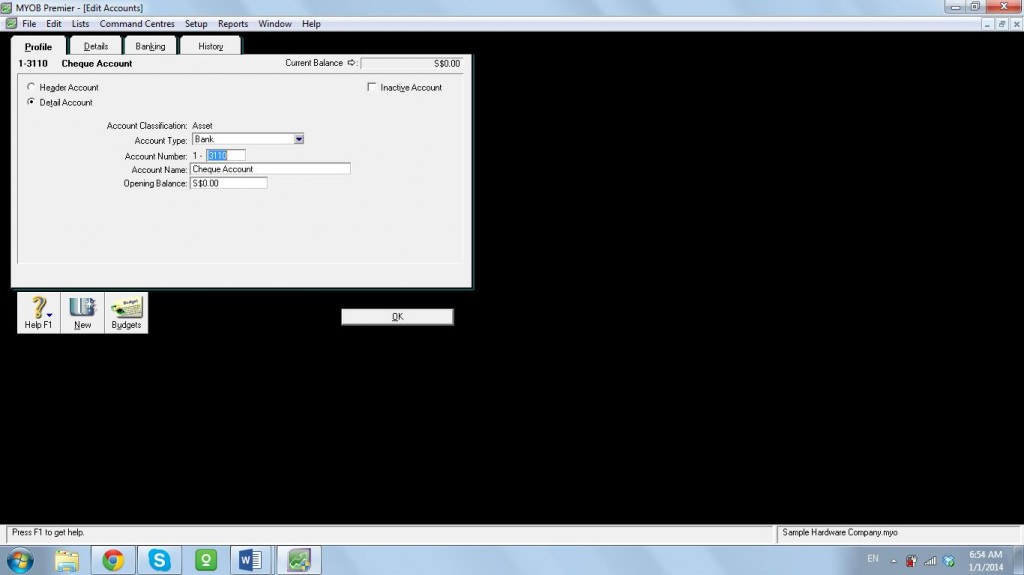 2.Details Tab – This is where you indicate Tax Code for the account being set up, when applicable. In this screenshot example, Cheque Account don't require a Tax Code. Its being linked to Customer Receipts is shown in the lower portion.  The topic Link of Accounts is discussed in separate training module.
3. Banking Tab – This is the tab to provide detail on a Bank Account Code. Account Number to be entered should be all numeric characters only.
This Tab is not available on accounts that are not bank accounts like expense accounts per screenshot below:
4. History Tab – This tab shows the history of a particular account showing the previous year balance and the current year balance on monthly comparative figure including the 13th month period, if previously set up in the company set up.