How to Determine Profitability of a Job
MYOB have the functionality to determine and analyze the profitability of a job by using the Jobs Profit and Loss Report.  This is very useful when your company wants to know if doing projects for a specific customer or doing more than one project for one customer is profitable or not.  However, you must bear in mind that the key to successful determination of job profitability is to enter correctly the specific job number during the income and expense recording by seeing to it that the job number is filled in during sales, bills or expense payment entry in MYOB. As a reminder, in order to ensure that all jobs have assigned with its job tracking numbers, you must be able to setup in the Preferences – System tab to:
Warn if Jobs Are Not Assigned to All Transactions (System-wide)
This is to be able to warn MYOB user that a job is not assigned before the MYOB entry for sales, bills or expenses can be recorded.
In order to generate a report on the job's profitability, go to the Reports menu and click on the Accounts tab as per screenshot below: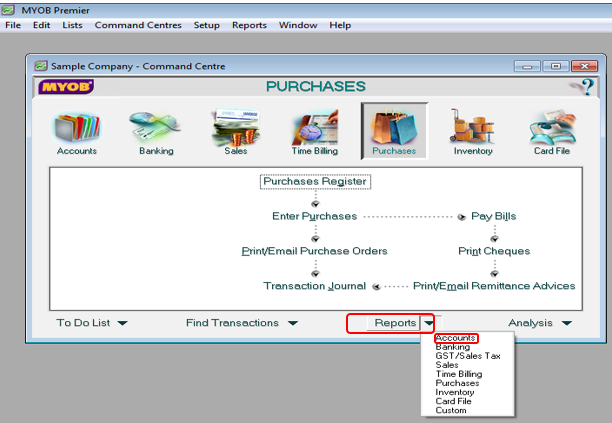 Under the Accounts tab, you are directed to the Accounts sub –heading as per screenshot below, scroll down to find the Jobs sub heading.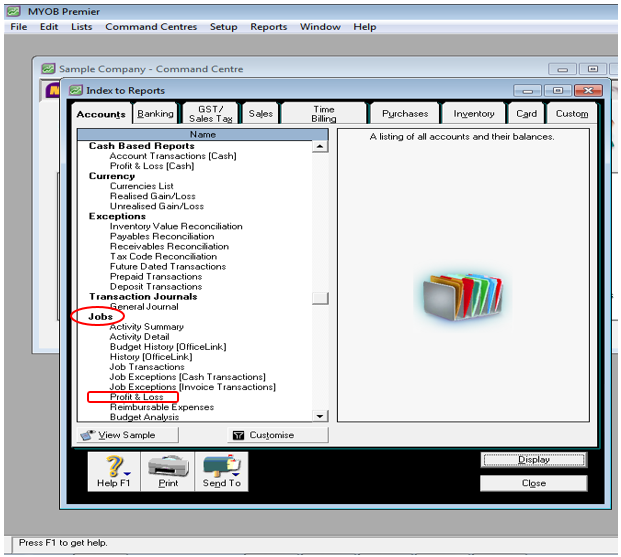 Under the Jobs sub-heading, click on Profit & Loss as per screenshot above. The following screen appears which require you to indicate filters:
Jobs – in this field you indicate whether to generate report for All jobs or for a specific job.  For illustration purposes, All Jobs is chosen.
Dated From/To – in this field indicate the start date and end date for the report period. For example, one month from July 1 to 31, 2015.
Financial Year – indicate in this field the financial year for the report generation.
When you click on Display, the Profit & Loss Report appears as per screenshot below: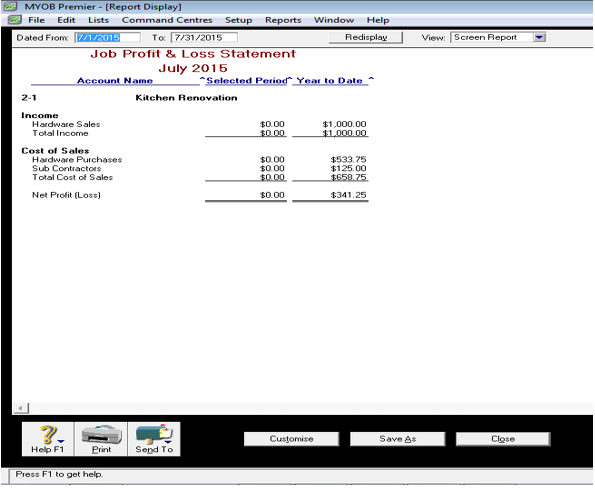 You have the option to Print the report or Send To:
Excel file – if you wish to save the report into an Excel format
Email
Fax
PDF – if you wish to save the report as PDF file
HTML
Tab-Delimited Text File
Comma-Separated Text File
Simple Text File