MYOB Sales – Other Sales Reports
Aside from the other built-in sales reports in MYOB, another interesting report is the Other Sales Reports, which can be accessed under the Reports tab as per screenshot below: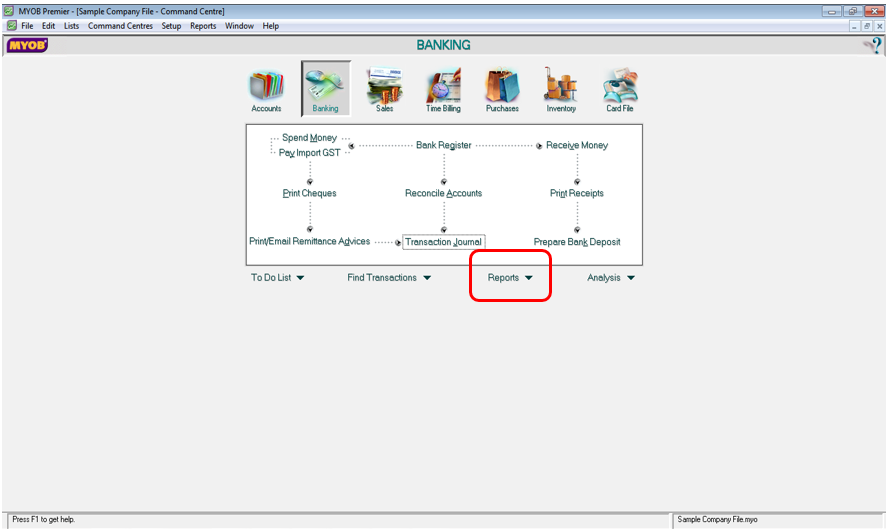 In the Sales tab of the Reports window, go to the drop-down arrow to get to the Other Sales Reports as per screenshot below: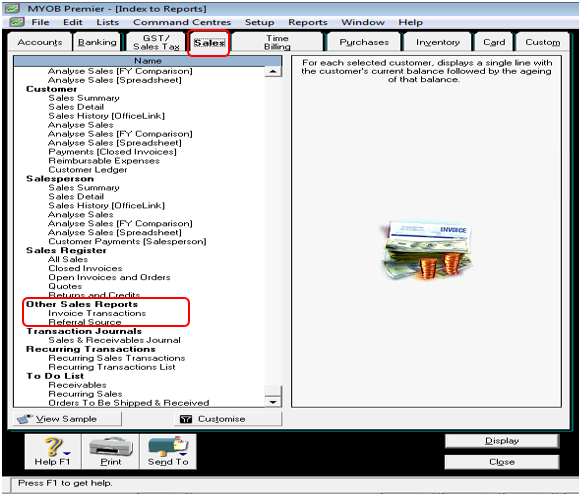 Other Sales Reports have the following specific reports:
Invoice Transactions
Referral Source
Invoice Transactions          
Sales Invoice Transactions shows the transactions affecting a sales invoice filtered for a specific customer or for all customers.  This is especially applicable if you have customers who usually pay invoices in installment amounts, making it difficult for you to prepare an Excel summary or schedule on when and how much payments are made for each payment transactions.
If you want to generate sales invoice transactions for a specific customer, you just need to indicate the customer name, period from and to.  Please refer to the screenshot below to have a view of how the filter works.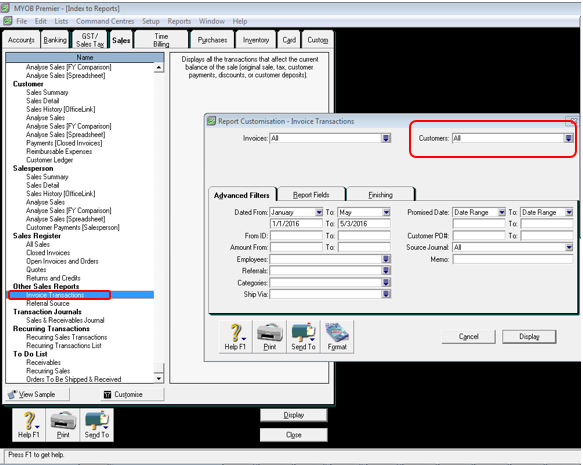 Assuming we are going to get the Invoice Transactions for B Customer that needs to be indicated in the Customer field, you need to indicate the specific customer as per screenshot below: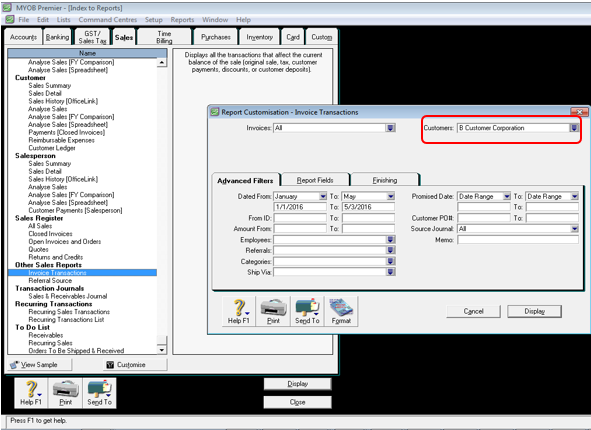 After clicking on Display, the Invoice Transactions, this is how this report appear: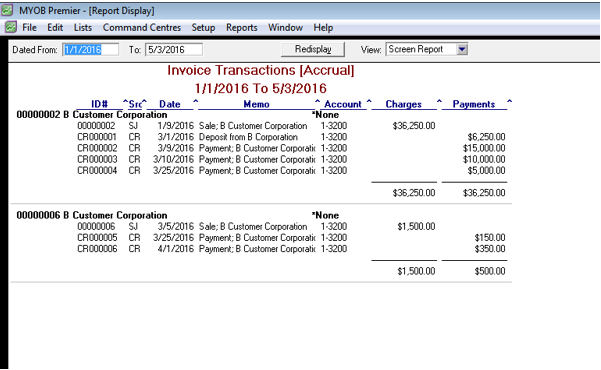 For sure, you also have the option to run this report for All Customers and in this case, you have to apply this filter to the Display field.  Depending on the report format you want to create, you can generate an Excel or send direct to Email, Fax, PDF, HTML, Tab-Delimited or Comma-Separated Value. To do this, you click on the Send To window on the lower left corner of the Report display as per screenshot below: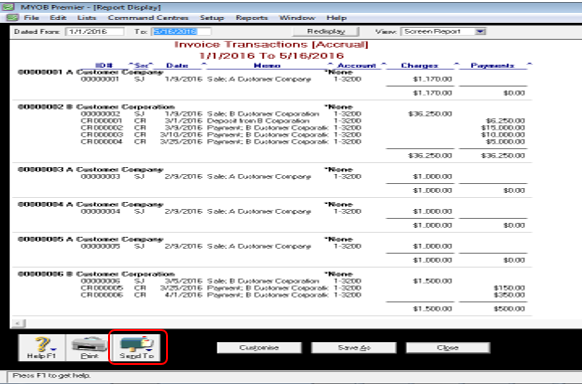 Click on the Sent To icon and click on the selected report form or to send through the email as shown on the screenshot below: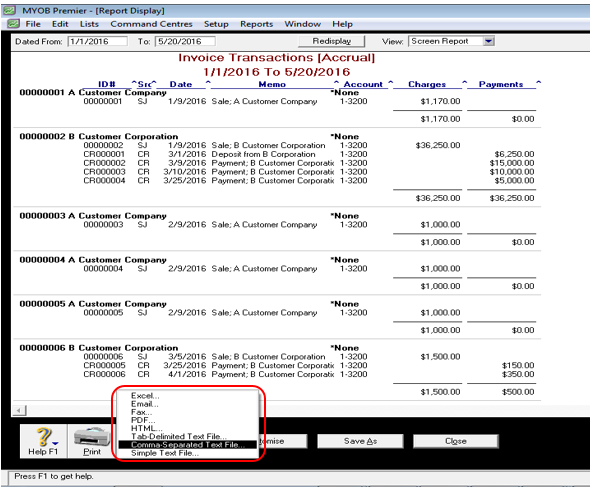 If you want the report to be in Excel format, you click on this to choose and the Excel format appears on your screen below: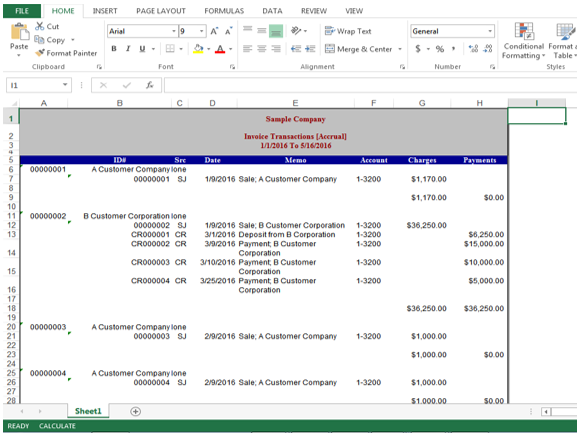 When you want the report to be generated in PDF format, you can also do so by clicking on the PDF and below is the sample report generated: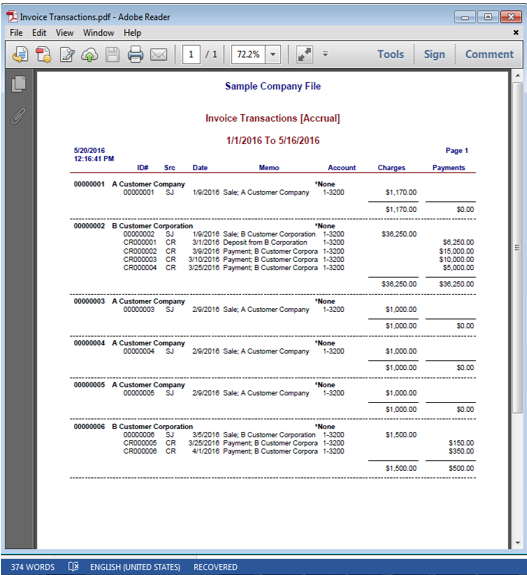 These report formats are just proof of how MYOB have put much thought to make your reporting and financial information report available with just a click or two away.  So, you have to bear in mind that when you are reconciling customer statements and the customers would like to know which payments are applied to which invoices and the dates these payments come in, then you have to use the Sales – Invoice Transactions Report.
Referral Source
Another report sales invoices report is the Referral Source.  This report shows the invoices generated and coming in from the Referral Source.  If you are using the Referral Source to identify your sales channels or sales source – email, promotional program, referral, you will be able to use this report to evaluate which Referral Source contribute more to sales invoices activities.  This is a very helpful tool for you to arrive at sound business judgement on what advertising and marketing strategies to implement to successfully improve sales generation.