Periodic End-of-Period Procedures in MYOB Premier
MYOB Premier allows you to perform tasks that are related to end-of-period procedures. In order to ensure that the accounting information contained in MYOB are accurate and complete, you should list down related tasks to achieve this goal. Examples of these are those activities that involved month-end as well as year-end closing procedures including but not limited to the following activities:
1) Reviewing of trial balance
2) Reconciliation of accounts including bank reconciliation
3) Review of Accounts Receivable and sending of statement of accounts for customers
4) Review of Accounts Payable and sending of Accounts Payable confirmation letters to suppliers to confirm account balances
5) Review of accounts including expenses vs. budgets
6) Periodic, like monthly recording of depreciation, amortizations, interest expenses
7) Preparation of adjustments to correct errors
8) In case of using accounting software, this includes observing cut-off date in recording month-end adjustments and locking periods restricting any accounting entries on the specified month.
Month-End MYOB Procedures
MYOB Premier also have built-in features to enable you to observe the month-end procedures including but not limited to the following:
1) Reviewing reports – which includes Receivables Reconciliation, Payables Reconciliation, Sales Analysis (Customer Accounts), Purchases Analysis (Supplier Accounts), Items List Summary, Audit Trail, Profit and Loss Statement, Balance Sheet, Summary Trial Balance, Profit and Loss Budget, Balance Sheet Budget, Statement of Cash Flow
2) Sending Customer Statements – based on the Accounts Receivable Report which could be an Invoice Statement or an Activity Statement which lists all customer Sales Invoices, Payments, Orders with information on any down payment made as of a given period of time.
3) Running the Company Data Auditor – to access this feature, go to the Accounts and choose Company Data Auditor. This feature have four options to help you verify records and guide to ensure accounting information are accurate as follows:
3.1. Company File Overview
3.2. Account Reconciliation
3.3. Transaction Review
3.4. Tax Exception Review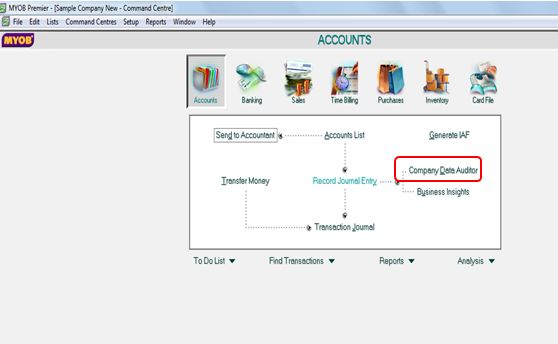 The Company File Overview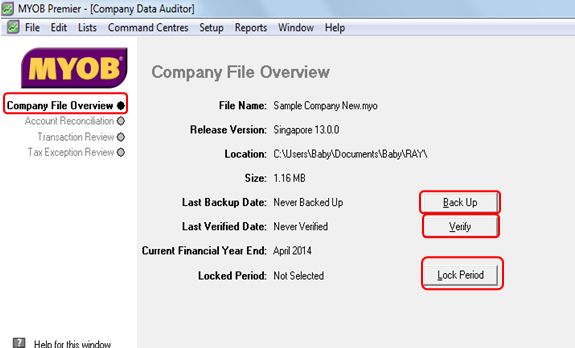 Account Reconciliation Review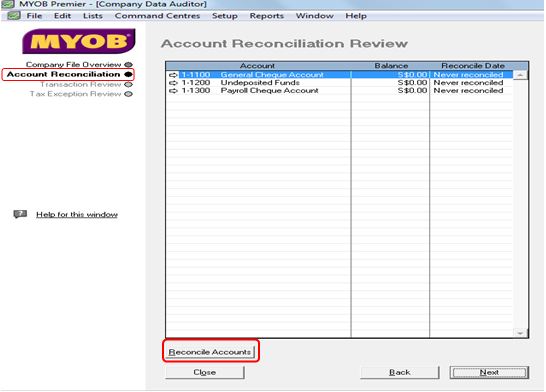 The Transaction Review Screen: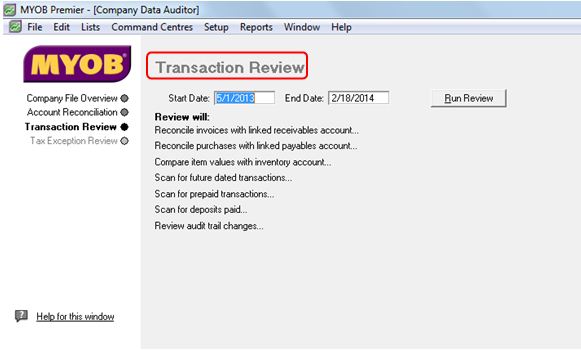 Locking Periods –this feature prevent further entries to be made on your MYOB especially if you no longer want to make any entries for the month you have closed and you have made analysis as well as reported the financial information to the end-users. To lock period, you have to go to the Setup feature and choose Preferences and then choose the Security tab.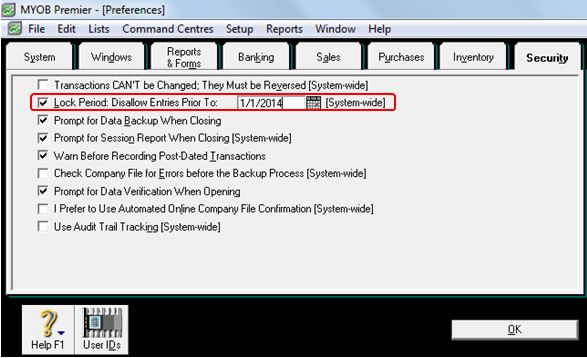 Recording monthly adjusting journal entries –this month-end procedure ensures completeness of financial information for those accounting transactions not involve sales and payments from customers, purchases and payments made to suppliers. Example of these accounting transactions are monthly recording of depreciation expense, amortization and making correcting entries for errors made in the accounting entries.
Year-end Procedures in MYOB
In order to update and ensure reliability of accounting information generated from MYOB reports, you have to observe year-end procedures in MYOB to achieve this.
End-of-year procedures include the following:
Following month-end closing procedures – ensure that monthly closing procedures are followed. This includes monthly recording of depreciation, amortizations, correcting adjusting entries, monthly bank reconciliation and other procedures including but not limited to the above activities for month-end closing.
Performing stock adjustment or stocktake – one way to achieving this goal is doing inventory adjustments related to inventory count and ensure all inventory-related transactions are recorded. Making inventory adjustments using the Count Inventory Window as taken up the topic How to Create Inventory Adjustments in MYOB Premier.
Providing reports to authorized persons or management– this procedure may include monthly reports to be asked by your accountant or authorized persons to review the financial reports generated in MYOB company file. It would be of great benefit to have periodic reports submitted for review so that any adjustments deemed necessary to be made have to be entered in MYOB.